On the eve of the new academic year, I'm sharing images of my Royal Grafton teacup at
McMaster University
.
I took advantage of the quiet summer hiatus to tour and photograph my teacup on the University grounds.
Archways around campus.
The best place to escape the campus' hustling and bustling for a tea moment is Divinity College's tranquil gardens.
Left: The interior of the teacup is decorated with pink roses.
Right: The Royal Grafton backstamp.
Senator William McMaster, the founder of McMaster University, enjoys a cup of tea.
Could the Senator have imagined that 125 years after he founded McMaster University, his institution of higher education will have over 26,000 full-time students starting their classes tomorrow?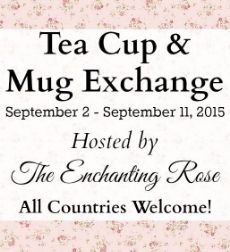 In addition to the new school year, September also brings Stephanie from
The Enchanting Rose's
long awaited fall tea cup and mug exchange! Please click
here
for more info on how to sign up for all the fun!
I'm joining the following parties this week: